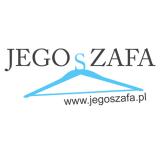 Jego Szafa
Fashion industry | Podkarpackie, Poland
JegoSzafa.pl. was founded in 1990 year and it is a clothes company from Poland. We specialize in men's products. Ties, bow-ties, handkerchiefs, shirts those are products that we have one of the biggest amount of assortment in Poland. We distribute our products in three ways:
-wholesale,
-internet sale
-stationary shop
We have more than 10 years of internet sales experience.
Industry
Fashion industry
Location
Grunwaldzka 22
Rzeszow
Podkarpackie, Poland.

See larger map